Back
SpongeBob's Super Bouncy Fun Time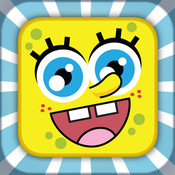 Release Date:
2012-02-16
Platforms:
iPad
Developer:
Nickelodeon
Players:
1
Plot:
They're baaack! It's jellyfish migration time and jellies are everywhere! Help SpongeBob catch them and get them all to safety. Are you ready?!?OH NO! The jellyfish are in trouble! SpongeBob must catch and move them all to safety; are you up to the task?!?
****100 LEVELS OF SUPERBOUNCY FUN!!!****
Bikini Bottom is swarming with jellyfish! Help SpongeBob SquarePants and his best friend, Patrick Star, collect them all using a super special ball blaster in this super exciting new physics-puzzler-type adventure for iOS! Get ready, 'cause it's SuperBouncy FunTime!
EXPLORE THE SUPER SWELL UNDERSEA WORLD OF BIKINI BOTTOM (and you don't even have to hold your breath!): travel to exotic locales like Jellyfish Fields, Kelp Forest, Rock Bottom, and more!