Back
SpongeBob at the Macy's Thanksgiving Day Parade
On November 25th 2004, SpongeBob took to the skies of New York City for the very first time – in giant balloon form. Since then he has established himself as a long-running favorite, appearing in the Macy's Thanksgiving Day Parade every year except 2007. The balloon is currently on its second design.
Listen to SpongeBob talk about his Macy's balloon in this clip from a 2009 radio interview.
2004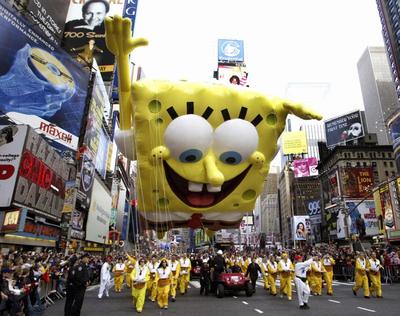 For SpongeBob's inaugural flight, Nickelodeon issued the following press release:
Nickelodeon's SpongeBob SquarePants to Appear at 78th Annual Macy's Thanksgiving Day Parade
Parade's First Square Balloon Makes Debut on Balloon Inflation Day, Nov. 24
WHO: Following the highly successful box office opening of The SpongeBob SquarePants Movie last weekend, SpongeBob SquarePants the Balloon will soak up the sights, sounds and fun as he makes his maiden voyage in the 78th annual Macy's Thanksgiving Day Parade.
WHAT: On the eve of the Parade, the SpongeBob SquarePants balloon will absorb more than 16,200 cubic feet of helium, dressed in his signature white shirt, striped tie and, of course, brown square pants. The balloon stands 62' high, 38' wide and 28' long. SpongeBob joins other Nickelodeon character balloon, Little Bill.
WHEN: Wednesday, Nov. 24, Noon-10 p.m. (Balloon Inflation Day)
WHERE: West 77th Street and Columbus Avenue
BACKGROUND: The SpongeBob SquarePants Movie is Nickelodeon Movies' 11th release and had the biggest opening weekend in the history of the company. SpongeBob SquarePants debuted on Nickelodeon in 1999 and is the most successful property in Nickelodeon's 25-year history. For 11 straight quarters, SpongeBob SquarePants was the highest-rated property on all of broadcast and cable kids TV among kids ages 2-11 -- with approximately 58 million monthly viewers. Thirty percent of SpongeBob fans are adults.
>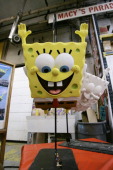 LEFT: Final painted model and white pattern model for the balloon on Preview Day at Macy's Studios in Hoboken, NJ prior to the 2004 Macy's Thanksgiving Day Parade.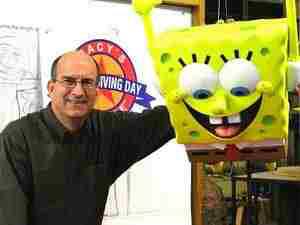 RIGHT: John Piper, Vice President of Macy's Parade Studio, poses with the balloon model.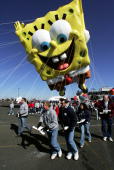 LEFT: The balloon takes a test flight in the parking lot at Giants Stadium. 600 internal tie lines give him his iconic square shape.
As one of the highly anticipated new attractions, SpongeBob was featured prominently on the parade's 2004 homepage.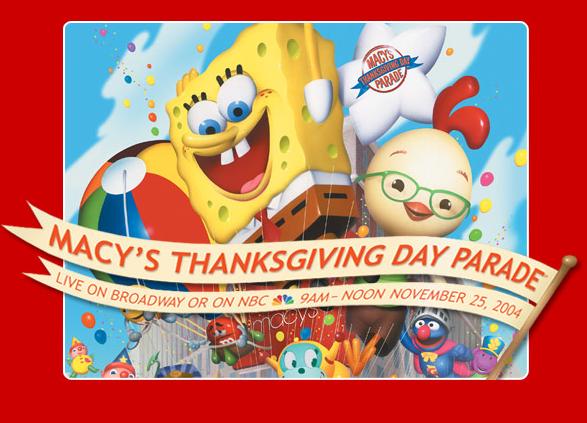 Inflation Eve
SpongeBob waits in the sidelines, ready to delight millions of fans who are eagerly anticipating his debut the following morning.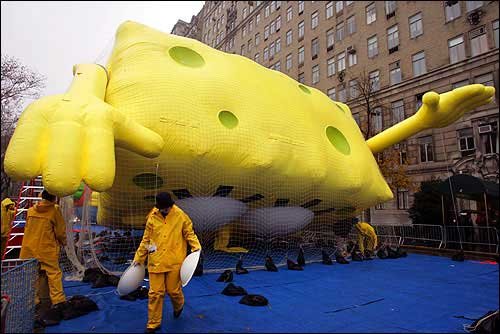 In the photograph below you can see the balloon's inflation instructions. These were used every Inflation Eve until the original balloon's retirement. In 2013 SpongeBob was completely redesigned, so a fresh set of instructions were required.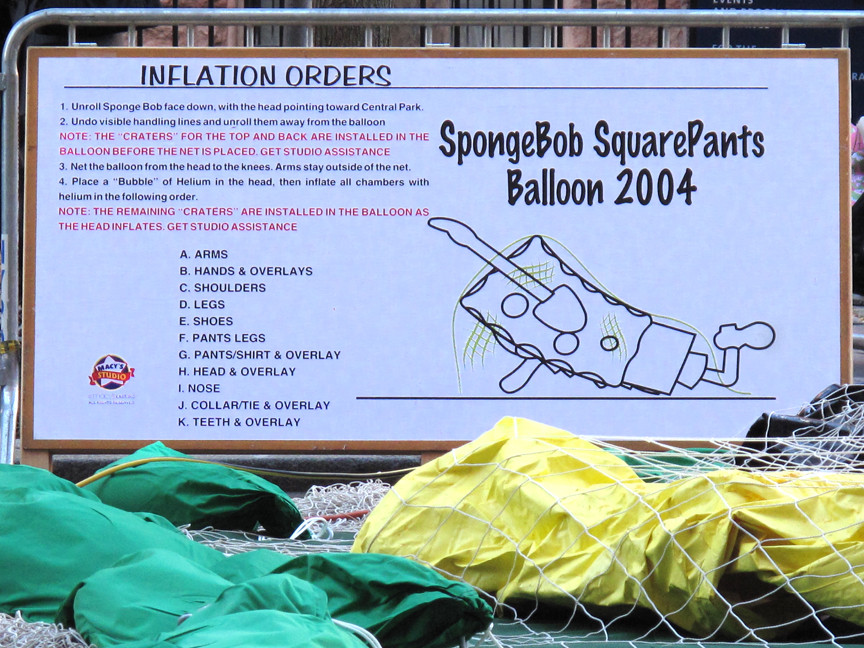 Parade Day
In this clip from the opening of 2004's parade, SpongeBob is announced as one of the new balloons for the year.
In this second clip, he makes his inaugural flight.
"Now, making a huge splash on his maiden voyage down Broadway, our very first square balloon - it's none other than SpongeBob SquarePants, furnished by (of course) Nickelodeon. And what an amazing technical triumph from Macy's design team. / I love this guy! / I do too. / SpongeBob lives in a pineapple under the sea in the city of Bikini Bottom, and now fans can soak up every second of this absorbing character's first full-length animated feature, The SpongeBob SquarePants Movie, now in theatres. / Al, did you say soak up? / Yes, I did. / SpongeBob has enough volume to absorb 101 thousand gallons of water as he cruises by at twice the length of a killer whale."
2005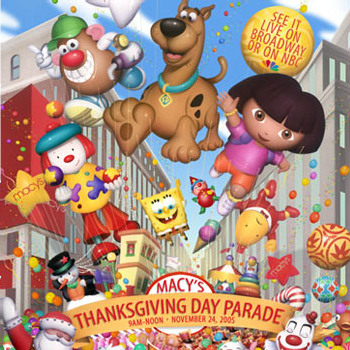 SpongeBob returned to the parade in 2005. That year, Macy's website used SpongeBob as an example to explain how balloons make the transition from concept to reality. Check it out below.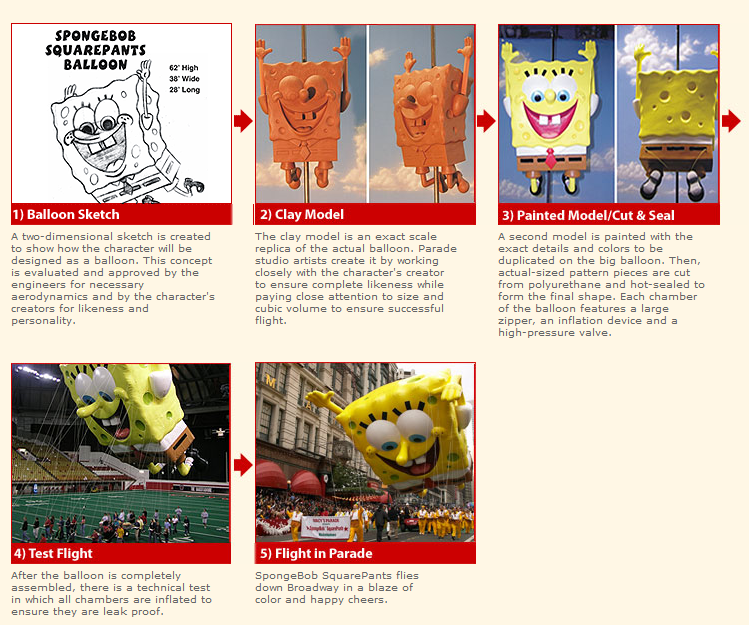 "Who lives in a fully furnished 2-bedroom pineapple under the sea? Of course you know the answer to that. It's SpongeBob SquarePants. Direct from Bikini Bottom, furnished by Nickelodeon and dressed to the gills in a smart red tie, chic shirt and size 2,100 shorts, all designed by Donatelloa Versushi. Once again, the Krusty Krab's foremost fry cook gives high fives to pals Gary the Snail, Patrick Starfish and Sandy Cheeks as he flashes those superstar teeth, each one the size of a boogie board. SpongeBob weighs in today at 785 pounds dripping wet, and all-in-all is bigger than a New York City hotel room. A more absorbing character would be hard to fathom."
2006
"Great Barrier Reef! Look what the tide brought in. That sopping wet superstar, that Johnny Depp of the deep, my man SpongeBob SquarePants. Furnished by Nickelodeon, this absorbing yellow optimist lives in a two storey pineapple under the sea, has adventures with Bikini Bottom buddies and totally loves his job as fry cook at the Krusty Krab. Actually, today SpongeBob weighs in at 785 pounds dripping wet (and today that's very fitting) and is bigger than a New York City hotel room. And did you know that SpongeBob is Macy's Parade's first and only square balloon? That's right, and after the parade he'll probably call pals Patrick, Sandy and Gary on his shell phone before floating back to life in Bikini Bottom."
2007
SpongeBob did not appear in the 2007 parade but returned the following year.
2008
"Having absorbed more than 16,000 cubic feet of helium, having soaked up the sights and sounds of mid-town Manhattan, and having cleaned up ratings for Nickelodeon, SpongeBob SquarePants, overflowing with pride, makes his heavily anticipated airborne entrance. SpongeBob and his friends are the creation of artist, animator and former marine science educator Stephen Hillenburg. This porous star of Nickelodeon lives in the underwater city of Bikini Bottom under a pineapple, of all things. Appealing to adults as well as kids, there's no doubt as to why SpongeBob SquarePants has become a household name."
2009
"Soaking up the sights and sounds and its 10th anniversary is that wholly optimistic sea creature, the one, the only, SpongeBob SquarePants. From his pineapple under the sea this waterlogged star continues to entertain kids as well as adults above the seven seas. SpongeBob was created by Steve Hillenburg, a former marine biologist who fashioned his character after a simple square sink sponge. Nickelodeon proudly presents this savvy sponge for millions of fans to see today."
2010
"Once again this year the Emmy Award-winning SpongeBob SquarePants has surfaced from his pineapple home under the Pacific ocean to absorb all the excitement above the streets of New York City. You can start to understand why SpongeBob has that smile on his face: He continues to clean up in the ratings, being the number one animated programme among youngsters on television for 9 straight years. Nickelodeon's yellow superstar sponge squeezes all he can out of modern technology by hosting more than 11 million friends on Facebook and tweeting to thousands of fans about his current underwater activities."
2011
"Straight out of Bikini Bottom, making his seventh appearance in the parade is pop culture icon and eternal optimist SpongeBob SquarePants. The Emmy Award-winning international superstar is seen in more than 171 countries around the world and has more than 28 million friends on Facebook. Not only is this one of the parade's highest flying inflatables, it is also the first ever square balloon."
2012
"Question: What's that bright yellow spot in the sky? It's not the sun, it's that superstar from Bikini Bottom, SpongeBob SquarePants! Flashing his wide, toothy smile, SpongeBob has a lot to be thankful for this Thanksgiving Day. He's starring in his first ever stop-motion animation special "It's a SpongeBob Christmas!" this holiday season on Nickelodeon. The DVD and soundtrack are available right now."
2013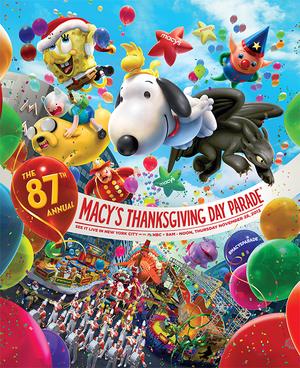 By 2012 the original SpongeBob balloon was beginning to show its age, but rather than retire their yellow superstar from the parade Nickelodeon commissioned a brand new design to be used starting in 2013.
Nickelodeon issued the following press release:
SpongeBob SquarePants Balloon Gets Holiday Makeover For 87th Annual Macy's Thanksgiving Day Parade

Making his way from Bikini Bottom to New York City, the high-flying SpongeBob SquarePants balloon will debut a new look for the 87th Annual Macy's Thanksgiving Day Parade on Thursday, Nov. 28. Donning a holiday-themed ensemble for this year's celebration, millions of fans will watch as SpongeBob takes to the sky for his ninth consecutive procession down the streets of Manhattan.

The SpongeBob balloon design was re-imagined by Nickelodeon and the Macy's Parade organizers to give it a fresh, more vivid look. The balloon structure was also fine-tuned as organizers accomplished an engineering feat, incorporating 800 tie lines in the single chamber sphere that intricately pull together SpongeBob's trademark square shape.

"It's not very often that the term 'square' and 'balloon' are used together, but for nearly a decade the SpongeBob SquarePants balloon has been one of the many highlights of the Macy's Thanksgiving Day Parade," said Amy Kule, Executive Producer of the holiday spectacle. "With his animated persona and super-sized Santa hat, this second iteration of this irascible character will float down the Parade route to the continued delight of the millions of fans lining the streets of New York and the many millions more watching on television across the country. This Thanksgiving, SpongeBob once again takes his rightful position squarely in the sky."

"Nickelodeon has a long history of successful collaborations with Macy's and we are very excited to unveil this new SpongeBob balloon at the Parade this year," said Pam Kaufman, Chief Marketing Officer and President of Consumer Products, Nickelodeon. "Watching the Parade is a time-honored, Thanksgiving Day tradition and we hope this balloon brings a sense of SpongeBob's eternal optimism to the millions of families watching at home and the millions more experiencing the Parade in New York City."

In 2004, the first-ever SpongeBob SquarePants Balloon made its inaugural appearance in the Macy's Thanksgiving Day Parade to the delight of kids and adults alike. Based on the most-watched animated kids' show on TV, this year's newest SpongeBob balloon will stand at 44-feet tall, 41-feet long and 34-feet wide as it struts down New York's most famous parade route.
BELOW: Concept designs for the new balloon.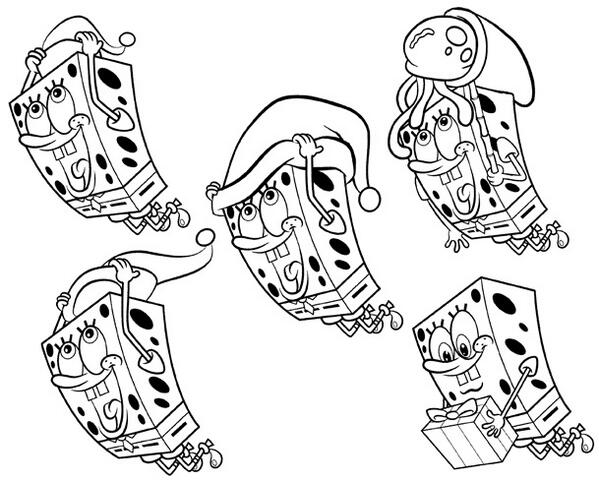 Parade Day
"Hold onto your hats! Here holding onto his hat and coming to us from his pineapple home under the sea: SpongeBob SquarePants. Everyone's favorite yellow sponge stars in the hit cartoon that chronicles his nautical and sometimes nonsensical adventures. The Nickelodeon series has been the most watched show with kids for the past 12 years and is seen in more than 170 countries."
2014
"Making his 11th triumphant return to the big parade, that cultural icon SpongeBob SquarePants floated up from his pineapple home under the sea to swim above the streets of the Big Apple. SpongeBob, the incurable optimist, is the star of the number one animated show for kids (and adults) in which he and his Bikini Bottom buddies enjoy various nautical and nonsensical adventures. Be sure to see 'The SpongeBob Movie: Sponge Out of Water' in 3D this February, and of course you can soak in SpongeBob every day on Nickelodeon."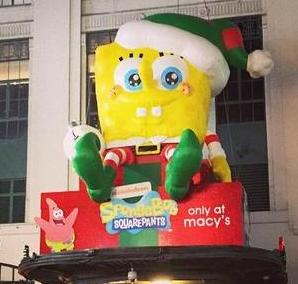 As well as taking part in the parade as usual, in 2014 SpongeBob joined the ranks of other iconic characters such as Mickey Mouse, Scooby-Doo, Kermit and Snoopy as Macy's 2014 Holiday Ambassador. There was an exclusive collectable talking plush available to purchase, in-store events and special signage nationwide, and at Macy's flagship store in NYC there were custom SpongeBob shopping bags, an inflatable adorning a marquee entrance to the store (shown to the right) and a window dressed in Bikini Bottom holiday flair.
2015
"From the sharks undersea to overhead, it takes an army of about seventy-five people to keep in-tow the world's most adored yellow sea sponge, SpongeBob SquarePants. The animated comedy follows the nautical, and sometimes non-sensical, adventures of the incurably optimistic SpongeBob and his Bikini Bottom friends. And as you feast your eyes on our only square balloon as it floats by, remember to soak up the newest episodes of Nickelodeon's SpongeBob SquarePants. Be there AND be square."
2016
"Hold onto your hats, SpongeBob SquarePants is rushing in trying to hold onto his. The celebrity Sponge in the sky is in the 17th year chronologicaling his nautical, and sometimes non-sensical, adventures as a global pop-culture phenomenon. SpongeBob continues to be seen in more than 185 countries and translating into more than 50 languages. You can deep dive and catch SpongeBob and his Bikini Bottom pals every day on Nickelodeon."
2017
This year, in addition to the perennially popular balloon, viewers got to see a performance by the cast of SpongeBob SquarePants - The Broadway Musical, which began previews Nov 6th and officially opened Dec 4th at the Palace Theatre.
Full press release here
.
"One of the great things about our location, we've got the Broadway shows behind us.

That's right and news splash, based on the long running Nickelodeon hit series, SpongeBob SquarePants, a new musical is about to break like a wave over Broadway. SpongeBob SquarePants follows a day in the underwater town of Bikini Bottom where the citizens have just learned that a nearby volcano will erupt tomorrow.

So SpongeBob has to rescue his city from certain destruction. So here is "Bikini Bottom Day" performed by the cast of SpongeBob SquarePants."
"Master of laughter and pop-culture phenomenon SpongeBob SquarePants is bobbing down the parade route soaking up the adoration of his fans. SpongeBob and his Bikini Bottom pals swim it up every day on Nickelodeon.

Guys, so here's a little fun sponge fact: if you took all the ropes on the outside and the inside of this ballon and then laid them end to end, they would stretch the entire two-and-a-half mile length of the parade route. Did you know that? I didn't think you did. Not only is SpongeBob one of the parade's highest flying inflatables, it's also the first ever square balloon."
2018
"And we would recognize this guy anyway; here is SpongeBob SquarePants, the top star of Bikini Bottom. His Emmy Award-winning Nickelodeon series will celebrate its 20th Anniversary next year and the SpongeBob movie, It's A Wonderful Sponge, is set to make a splash in theaters in 2020.

Yeah the big yellow sponge in the sky is soaking up the crowd's praise for being the first ever square balloon. He's being pulled into his signature shape by more than 800 internal tie-lines. Kept under control by 90 strong rope handlers. Hats off to these guys."
2019
This year was introduced a new balloon look, which included Gary.
"The Macy's Parade is thrilled to welcome back two fan favorites with the return of our porous pal SpongeBob SquarePants for his 15th flight down the streets of Manhattan, this year with his beloved pet snail Gary along for the ride; and the iconic pup Blue returning to the Parade line-up after more than a decade with a brand-new float celebrating the upcoming series 'Blue's Clues & You!,'" said Jordan Dabby, producer of Macy's Thanksgiving Day Parade.

This will be SpongeBob's 15th appearance in the parade. The new balloon will stand at 44 feet high, 36 feet wide, and 46 feet long.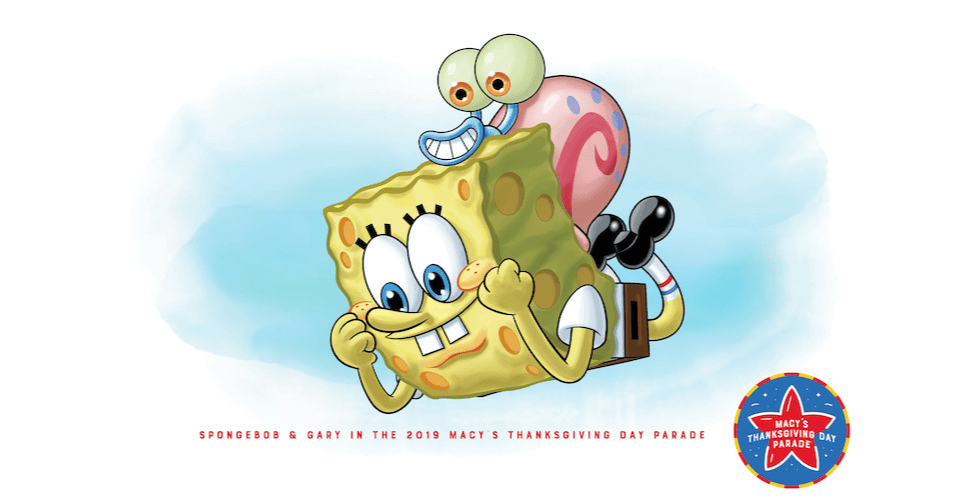 "And squeezing in a special moment in the spotlight, soaking up the crowd's adoration, is this brand-new balloon and the likeness of the world's best known underwater sea sponge, SpongeBob SquarePants. SpongeBob has invited along his pet snail, Gary, for his ocean-sized debut.

This year Bikini Bottom celebrates the 20th anniversary of their emmy-award winning series and the television premiere of 'The SpongeBob Musical' on December 7th, and next year a new animated movie will surface in theaters in the Summer of 2020."
2020
This is the year that no one was able to be in the crowd, the Parade was virtual, and the only land creatures that were allowed on site were the ones holding the strings or balloons.
"Hey let's welcome the global pop culture phenomenon, SpongeBob SquarePants and his hitchhiking pet snail, Gary.

SpongeBob was the first square balloon ever created for our parade 16 years ago. Next year, this guy's universe expands with the release of the SpongeBob movie, Sponge on the Run, and the new Nickelodeon series Kamp Koral: SpongeBob's Under Years.

Yeah, the show follows a young SpongeBob and his friends as they spend the summer building underwater campfires, catching wild Jellyfish, and swimming in Lake Yuckymuck at the craziest camp known as Kamp Koral."