Back
April Fools 2006

United SpongeBob purchased the privately held SpongeBob SquarePants fan site SpongeBuddy Mania (http://www.sbmania.net) in an even deal according to United SpongeBob's Chief Administrator cmonkey. The terms of the deal were not disclosed; however, an insider close to negotiations reported that the deal was in the works for a relatively short period of time and was worth enough for the managers to buy a car.

The acquisition re-ignites rumors that United SpongeBob is looking for a monopoly over the SpongeBob online community. United SpongeBob is already one of the most popular sites out there, and now absorbs the next most popular SpongeBob fan site. Spongey34, a former administrator at SpongeBuddy Mania, believes that United SpongeBob would be well served with the additions SpongeBuddy Mania brings to it, and that is will be a good new home to current members of SpongeBuddy Mania's forums. Such a site would undoubtedly be the greatest SpongeBob site there is to find.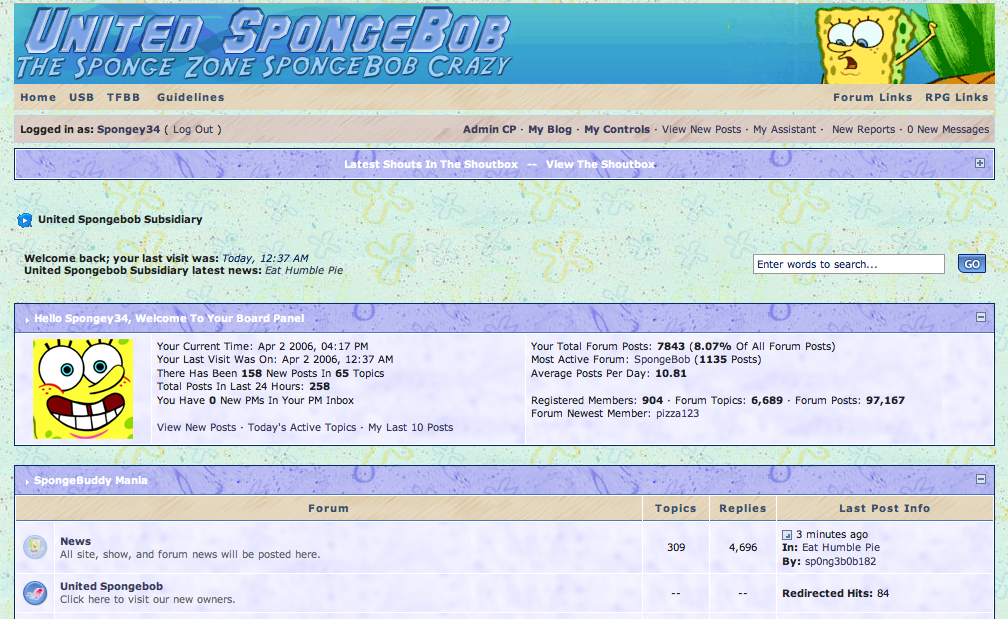 Just last month, Spongey34 can be quoted as saying he would not sell SpongeBuddy Mania for any price. He credits his change of heart to recent struggles within the management, and becoming too busy to maintain such a place. "There has been some recent turmoil within the administrators here, and there has been a lack of interest on the moderators part," he said.

Long-time staff members of SpongeBuddy Mania no longer retain their positions, but are welcome to reside as a member at United SpongeBob's forums if they haven't done so already, along with the members.

About United SpongeBob

United SpongeBob, also a privately held SpongeBob SquarePants fan site, opened on the World Wide Web in April 2002 as The Sponge Zone and today is the most visited out of all the English SpongeBob fan sites. In 2005, The Sponge Zone took over SpongeBob Crazy, another SpongeBob site that opened in 2004. No content was carried over, however, some staff members were. It was more of an agreement, as opposed to a purchase.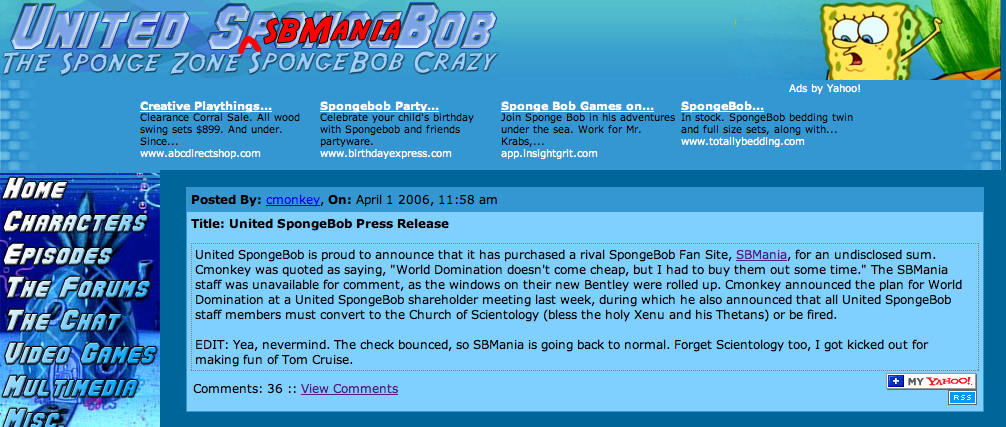 About SpongeBuddy Mania

SpongeBuddy Mania started with the opening of SpongeBob Mania in 2003. SpongeBuddy followed in 2004 and they became affiliates. In 2005 they decided to join forces and became known as SpongeBuddy Mania. SpongeBuddy Mania was the second most visited English SpongeBob site, leaving Sarah's SpongeBob SquarePants Shrine to claim that stake.

The new United SpongeBob seeks to be Earth's best SpongeBob website, where visitors can find and discover anything they might want to know about the show, and wishes to provide its members fun and a "cool place to got to." United SpongeBob with SpongeBuddy Mania's content will offer lots of unique material in several categories such as episode capsules, transcripts, songs, DVD and VHS info, movie info, pictures, quotes, and more. Tales from Bikini Bottom, a showcase for fan art and fan fiction, currently resides at SpongeBuddy Mania, and will be included in the move over to United SpongeBob. The SpongeBuddy Mania Shop, however, will be left behind.





This announcement contains statements made on April 1st within the meaning of Section FA-K3 of the Securities Act of 1929 and Section F-00-1 of the Securities Exchange Act of 1998. Actual results will differ significantly from management's expectations. These forward-looking statements involve risks and uncertainties that include, among others, risks related to reading articles posted on the first day of April, significant amount of indebtedness, competition, management of growth, potential fluctuations in operating results, international expansion, outcomes of legal proceedings and claims, fulfillment center optimization, seasonality, commercial agreements, acquisitions, and strategic transactions, foreign exchange rates, system interruption, consumer trends, inventory, limited operating history, government regulation and taxation, fraud, and new business areas. Until next year, April Fools.